UnityPoint Health Prairie Parkway LGBTQ Clinic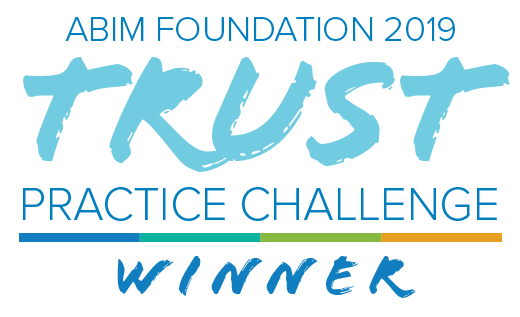 In January 2019, the ABIM Foundation launched its Trust Practice Challenge, an initiative to address the "trust gap" in health care by identifying practices that foster trust and trustworthiness in various aspects of the health care system. The Foundation would later launch Building Trust to build on this open call.
The Prairie Parkway LGBTQ Clinic occurs two evenings per month at one of UnityPoint Health's established Family Medicine clinics in Cedar Falls, Iowa. The clinic is staffed by providers and staff who are all full-time employees of other UnityPoint clinics across the Waterloo region, along with a physician who is employed at a regional Federally Qualified Health Center. The clinic provides primary care and routine exams, vaccinations, routine cancer screening, contraceptive management, STI testing and treatment, pre-exposure prophylaxis (PrEP), hormone therapy, post-surgical care following gender affirming procedures, and on-site lab testing and radiology. Unity Point Health is a network of hospitals, clinics and home care services in 14 locations throughout Iowa, Illinois and Wisconsin.
Clinic workflow is designed to avoid potential misstep, particularly where healthcare has historically missed opportunities to create a positive experience for LGBTQ people. There is a dedicated phone line and email, managed by only two people who are trained to query the patient on pronouns and a preferred name. This small yet critical step helps affirm patients who identify as transgender or gender-fluid. All providers and staff attended Safe Zone training, a sensitivity and bias-awareness course for providers, nurses, pharmacists, medical assistants, patient service representatives, lab techs, radiology techs, and leadership. This was fundamental to creating a common understanding of the clinic's mission, to equip staff with the correct skills and language, and to create a mutually accountable culture.
Each clinic starts with a staff huddle and centering reflection, a poem, video, a passage from a book, or just a simple inspiring quote. The staff use the time to reaffirm their common purpose, mutual support, and accountability, focusing on one or two topics per clinic day (e.g. encouraging every patient to get the flu shot). At the close of the day, they share "joy bombs" and "pain spots" (rapid-cycle process improvement). This intentional recognition by staff and providers of the power of their work, as well as what they can improve on, creates a powerful and positive clinic culture.
Skills/Competencies:
Patient-Experience Mindset
Openness
Mutual support and accountability
Team-based care concepts
Proof of Concept:
Qualitatively, the clinic has countless anecdotes about patients' positive experiences; statements like "this clinic saved my life," are common. A patient satisfaction survey is provided to every patient, and patients are asked to share one thing they liked about the visit and one thing that could be improved. Most respond that nothing could be improved, although a few have asked for the clinic to be open for more hours.
Patients express how much it means to have someone within health care make it safe for them to live authentically, and often state that they have started to care about themselves again. This means accessing care appropriately, addressing preventive care, and effectively managing chronic disease.
Quantitatively, the patient experience is measured on a numerical scale of 1-5, with survey questions regarding courtesy of the receptionist, nursing staff and care provider, and the clinic environment as a safe place. With a greater than 60% survey return rate, each of these domains has an almost perfect score of 4.9. The clinic served 156 in its first year (2018), of which 51 were new to UnityPoint Health.
Replicability/Scalability:
This clinic practice provides not only a replicable model for LGBTQ care, but a framework for any clinical practice. The key practice elements– compassion, multi-disciplinary teamwork, robust huddles, story-telling, and person-centered care – can be reproduced in any care setting. What sets this practice apart is the intention that every person brings to their work. There is a depth of thought and consideration given to every interaction, decision and connection. The providers and staff, who are members of other clinic teams, have been able to transfer the mindset and care approach they've developed in this practice to their "home" clinics.
An additional (and unforeseen) benefit has resulted for providers, who regularly report that the LBGTQ Clinic is the favorite part of their work. They feel more connected, more effective, and more influential in their service to this patient population, and that has brought an unexpected level of joy back in to their professional life.
There has been interest in creating other LGBTQ clinics in UnityPoint Health regions, with one slated to open in Des Moines in April 2019. UnityPoint Health recognizes the need for this type of care experience in all of its markets, particularly more isolated, rural regions where patients currently travel significant distances to seek culturally competent care. Full-scale replication of this practice is being explored across the organization.