Category:
Success Stories
Factchequeado is limiting misinformation in Spanish-speaking communities
According to Nielsen, Latinos in the U.S. are more likely to receive, consume, and share "fake news" and misinformation online compared to the general population. Considering that tens of millions of Latinos use Spanish as a primary language, the absence of any organization devoted to rebutting false Spanish-language claims in traditional and social media presented a significant gap in our ability to address misinformation. Factchequeado has stepped into that breach.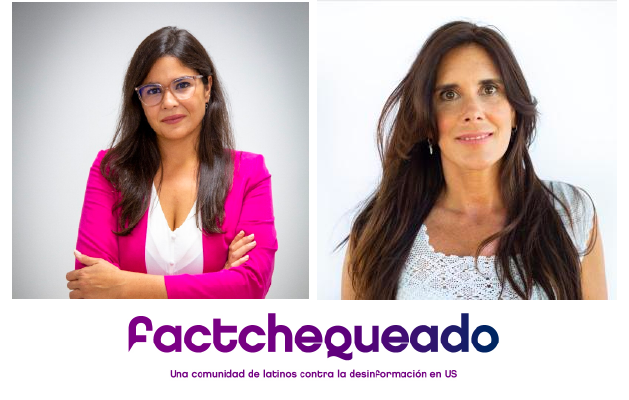 Co-founders Clara Jiménez-Cruz, CEO of Maldita.es, and Laura Zommer, editor-in-chief of Chequeado, the first major fact-checking organization in South America, paired up to form the organization in 2021. Factchequeado not only aims to create verified content in Spanish, but ultimately to build partnerships with local and national U.S. media and the Latino community to limit the impact of mis- and disinformation.
As the first-place winner of the ABIM Foundation's 2022 Misinformation Grant Challenge, Factchequeado received $80,000 to help correct the scourge of medical misinformation, which experienced a resurgence during the pandemic. The project has also received financial support from the Google News Initiative, the Knight Foundation and ICFJ.
Factchequeado has established more than 30 alliances with organizations across the U.S. that serve Latino communities, including media and institutional partners. These partners can republish Factchequeado's content and access its training materials, and help it connect with Spanish-speaking audiences.
In an effort to create a bond of trust, Factchequeado created a WhatsApp chatbot that allows individuals to directly share misleading information or make requests for factchecks. Factchequeado shares information collected through the tool with its partner organizations to alert them about misinformation in circulation and enable them to create proactive and timely responses in their communities. (Spanish speakers commonly use WhatsApp for news consumption and sharing.)
In collaboration with Mediawise and The Poynter Institute, the team at Factchequeado is also training Hispanic journalists to mitigate misinformation in Spanish. Participants are taught skills to produce timely and accurate fact checks on health issues, including images and videos. They also learn methodologies that help them recognize disinformation.
The program has also created a toolbox with resources to help Spanish-speaking individuals learn to identify misinformation in the content they see on an everyday basis, empowering ordinary people to identify and counter the spread of misinformation.
WEBINAR: Generating verified content to dispel misinformation
This conversation examines Hispanic Americans' historical mistrust in the health care system and the effectiveness of fact checking, how Factchequeado is forming alliances with local and national media to reach the "hard-to-reach," and how the initiative is harnessing the power of social media to find and correct misinformation.
University of Chicago empowers future clinicians to dispel medical misinformation
The spread of misinformation became rampant in 2020, during the COVID-19 pandemic, but deceitful and false medical claims have historically plagued physician-patient relationships and caused harm. Vineet Arora, MD, MAPP, dean of medical education at The University of Chicago Pritzker School of Medicine, is acting to prepare students to mitigate medical misinformation.
A newly-created interdisciplinary science communications course, offered to advanced students in medicine, nursing, and pharmacy at Pritzker, helps enrollees harness the power of storytelling and social media-friendly educational infographics to dispel misinformation. The course also teaches students how to effectively communicate scientific evidence to the public.
In addition, the course outlines empathetic communication strategies to cultivate better relationships with patients. Future clinicians are trained not only how to identify trusted sources but also how to share these strategies with their patients, with the goal of decreasing the spread and impact of misinformation.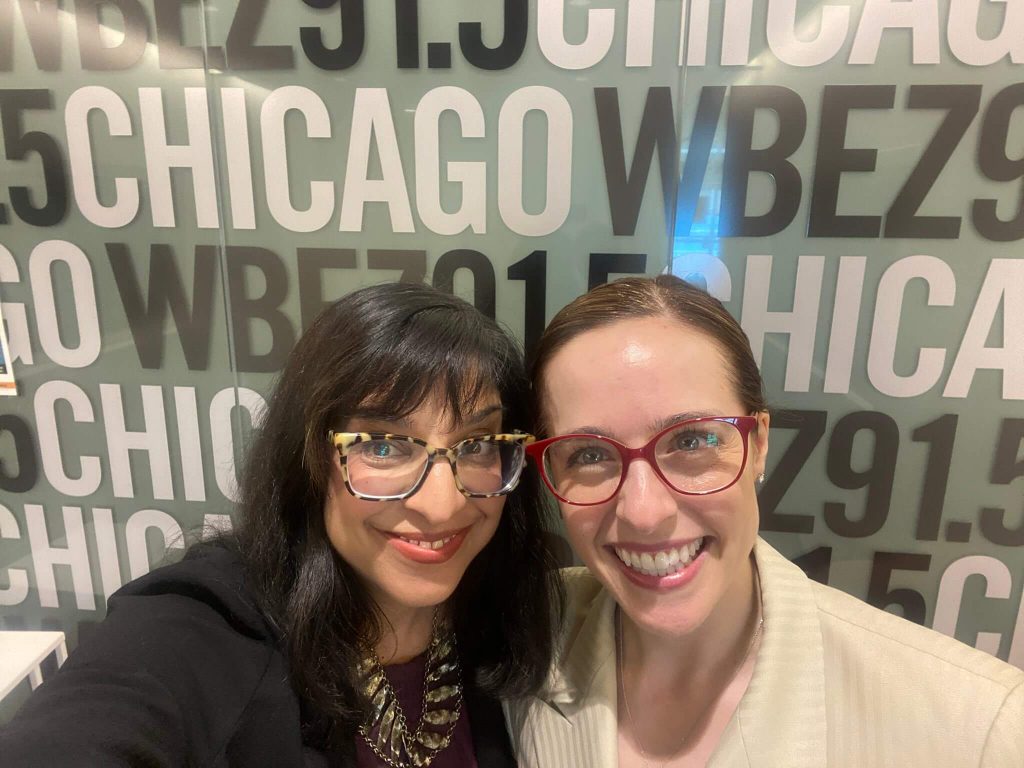 Dr. Arora teaches the course with Sara Serritella, a former journalist who serves as director of communications for the UC Institute for Translational Medicine. Together, they help students develop a communication style that is not simply a presentation of facts, but rather an engaging dialogue that is more captivating and easily understood by patients. The course's ultimate goal is to foster more meaningful patient and clinician engagement, thereby increasing trust in the health care system.
In March 2020, as an early response to the COVID-19 pandemic, Dr. Arora cofounded the Illinois Medical Professionals Action Collaborative Team (IMPACT) to amplify trusted sources, dispel medical misinformation, and improve equity of vaccination across communities in Illinois. Over the past two years, IMPACT has engaged thousands of health care workers, and the public, to identify where they can improve health care delivery. Group members have focused on creating clear, educational messaging regarding health that is shared at the same time, across various platforms. (The group has reached over 69,000 adults and over 3,000 children through their efforts to date.) In February 2022, the Association of American Medical Colleges and Centers for Disease Control and Prevention awarded Dr. Arora and IMPACT third place in the 2022 Innovations That Bolster Community Trust in Science Award and a grant to launch the science communication course.
Choosing Wisely STARS program expands to focus on trust
In 2017, Dell Medical School at the University of Texas at Austin and Costs of Care Inc., in partnership with the ABIM Foundation and the Josiah Macy Jr. Foundation, created the Choosing Wisely STARS program to catalyze grassroots, student-led initiatives to advance health care value in medical education. Based on a model developed in Canada, the program, which began with a cohort of 50 first-year medical students from 25 medical schools across the U.S., has grown to include more than 500 medical students from more than 50 medical schools.
Now the STARS program is expanding to include an explicit focus on trust, with an emphasis on the role of trust in conversations and efforts to reduce overuse. Program directors are in the process of defining learning objectives related to building trust in health care, with the goal of introducing curricular components to the STARS program that aim to achieve these learning objectives. Medical students will also be encouraged to lead or participate in initiatives that contribute to advancing the Building Trust initiative.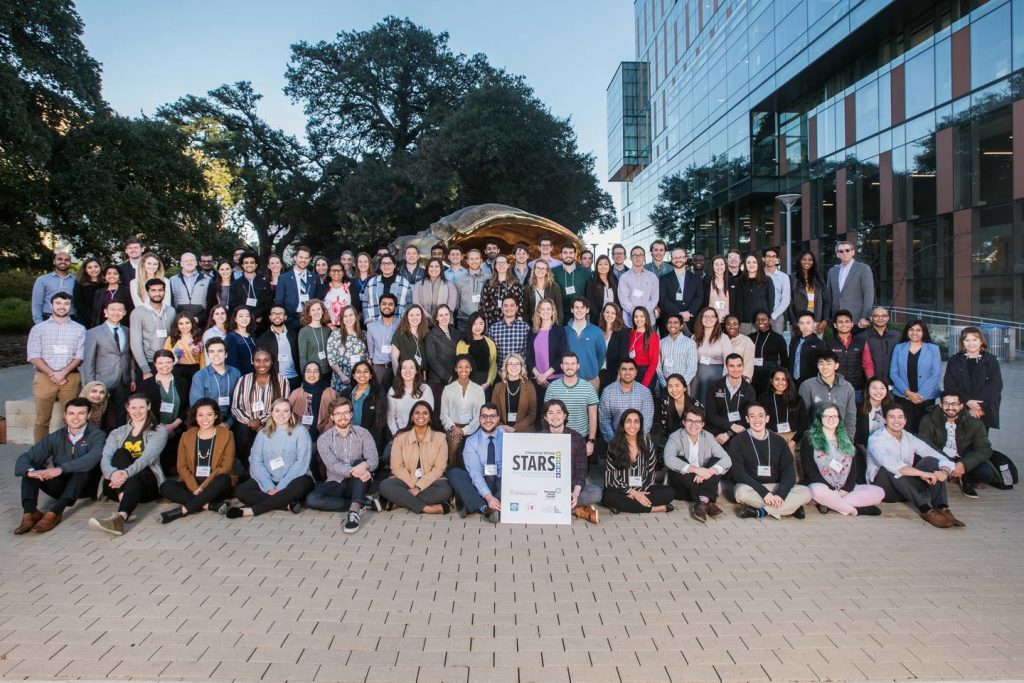 Building Trust Through Diversity, Health Care Equity & Inclusion in Internal Medicine Training: Grantee update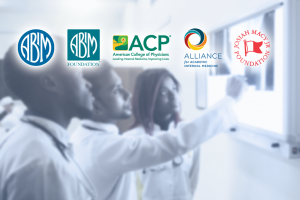 In June 2021, the ABIM Foundation – in partnership with the Alliance for Academic Internal Medicine (AAIM), the American Board of Internal Medicine (ABIM), the American College of Physicians (ACP) and the Josiah Macy Jr. Foundation – awarded a total of $287,500 to 32 projects to rebuild trust and address health care diversity, equity and inclusion in medical education and training.
Over the past year, grantees have begun to work toward addressing the root causes of distrust in the provision of care. Each of the projects are well underway in their efforts, and we're pleased to provide an update on some of the grantees:
The University of California San Diego set out to recruit 20 rising high school seniors from diverse backgrounds who would be first-generation college students and are interested in a medical career to join the Integrate First program. Students participate in the program during their senior year of high school and freshman year of college, and receive intensive support from mentors. Twenty-five rising high school seniors have been identified to join the program, and 20 will be asked to commit to the cohort over the coming weeks. Thirty mentors from UC San Diego School of Medicine and three mentors from ACP California have also been recruited. The Integrate First team has also secured a full-time success coach and a graduate intern to help prepare the cohort for their transition to college.
The University of Maryland is working with Corizon Health, the health care provider for the Maryland Department of Public Safety & Correctional Services, to improve care for incarcerated transgender people. The project aims to increase the number of providers with foundational transgender competent care knowledge and skills by developing new teaching curriculum. So far, grantees have applied for, and secured, five continuing medical education (CME) credit hours for the revamped curriculum, and have extended an invitation for participation to endocrinology fellows through the Association of Program Directors in Endocrinology, Diabetes and Metabolism and Maryland's ACP chapter. Additionally, six new didactic and interactive learning modules have been created, covering topics that include hormone care, health vulnerabilities, and transgender competent care.
Pre-COVID-19 pandemic, Hennepin Healthcare's diversity, equity and inclusion (DEI) team established a detailed curriculum for all trainees and faculty to incorporate trauma-informed approaches in their practices. However, due to the pandemic, training was scaled back to prioritize medical students. So far, a virtual reality simulation has been created and implemented to teach the basics of integrating concepts of Trauma Responsive Care into the clinical setting, and six third-year medical students have received extensive training on trauma informed care. To ensure the project's effectiveness, Hennepin Healthcare plans to elicit input about the curriculum from community members who have experienced health care induced trauma through a series of interviews and observations.
Oregon Health & Science University is studying structural racism experienced by Hispanic patients with diabetes, hypertension, and/or obesity in order to develop an anti-racism and structural competency curriculum for internal medicine residents. By partnering with ¡Salud! and Virginia Garcia Memorial Health Center (VGMHC), thirteen patients were recruited to participate in two separate focus groups. Lessons learned from these focus groups combined with focus groups of residents and faculty, a new structural racism curriculum will be developed and piloted as part of a residency program at Hillsboro Medical Center.

Third-year medical students at the University of North Carolina are using a newly developed health equity dashboard to identify health disparities amongst patients, analyze that data and implement quality improvement projects that promote equity at UNC Health. So far, 53 students have completed a project.
Posted Updated: May 12, 2022
Building a research community focused on trust in health care
Last year, the ABIM Foundation and AcademyHealth announced a collaborative effort focused on rebuilding trust in health care. Part of the Foundation's Building Trust initiative, the effort aims to advance research about what creates or inhibits trust among various health care stakeholders and which strategies are effective to build and rebuild trust.
The Foundation and AcademyHealth spent much of last year exploring the evidence base for building trust in health care. We first needed to find out where gaps in trust research existed. We led a stakeholder meeting on trust research attended by approximately 70 researchers, clinicians, patients, and funders. Following the meeting we outlined 10 key areas of interest for research on advancing trust at the organizational, clinician, and patient and community levels. We also reviewed recently funded grants to further identify areas of current research. This marked the beginning of our efforts to build a research community.
Now, we hope to coordinate disparate efforts, facilitate learning, and spur new research on building trust in health care by officially establishing such a multidisciplinary community.
The Research Community on Trust will bring together researchers and other stakeholders – clinicians, patients, health system leaders, payers, policymakers, and funders – who are interested in trust and trust-related issues. It will also enable researchers to connect and share with each other, and with other stakeholders who are critical to research development, dissemination and implementation.
If you are interested in learning more about the Research Community on Trust, please email info@buildingtrust.org.
Building Trust at Northwestern Medicine through the African American Transplant Access Program
Black Americans attempting to gain access to transplants face significant disparities. These include lower rates of referral to specialty care (nephrology, hepatology); referrals at advanced stages of disease; lower rates of referral for transplant evaluation; lower likelihood to make it through the evaluation process and be listed as a transplant candidate; higher likelihood to be delisted once listed; and lower likelihood to actually receive a transplant.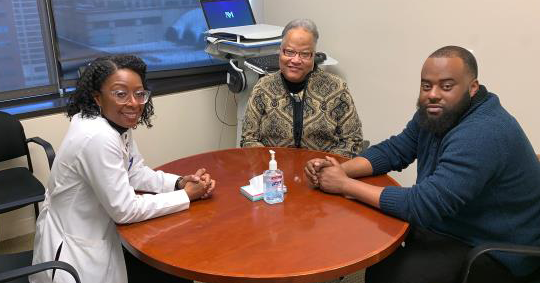 The African American Transplant Access Program (AATAP) at Northwestern Medicine seeks to earn the trust of Black patients who need transplant surgery. Each patient meets with Dinee Simpson, MD, the project's leader and Illinois' first Black female transplant surgeon, and a social worker to explore and address the myths and misconceptions that exacerbate their distrust of the health care system. Following the intake visit, regular check-ins with both Dr. Simpson and the social worker help to answer questions, provide support, and shepherd the patient toward listing and transplantation.
The program was implemented in early 2019; between 2017 and 2019, Northwestern saw a 55 percent increase in evaluations of Black patients, and an 18 percent increase in the number of Black patients listed for transplants.
AATAP builds trust through:
Provider-patient racial concordance
Patient-centered communication
Use of lay language
Removing time constraints on the visit
Cultural competency (Knowledge of common vernacular used, food preferences, and religious beliefs)
Demonstration of care and increased patient comfort with this potentially life-saving process
Learn more about Northwestern Medicine's AATAP program.
Building Trust in your primary care practice
Senior Investigator Michael Parchman, MD, MPH, of the MacColl Center for Health Care Innovation, part of Kaiser Permanente Washington, is a nationally recognized expert on applying implementation science to primary care. As both a family practitioner and health services researcher, he has more than 25 years of experience as a clinician and medical educator.
Building Trust team: Can you tell me why you think trust is important in improving health care and what interests you in the topic?
Dr. Parchman: This work began several years ago, when the Robert Wood Johnson Foundation approached us about the issue of engaging clinicians and other health care professionals in addressing overuse and promoting high value care. The more we explored this issue, the more we became aware of how trust is woven deeply into the fabric of every aspect of delivering high value care. It came up over and over again, and also came up repeatedly in our opioid work, where we are supporting primary care clinics in redesigning their care systems for patients who are on long-term opioids for chronic pain.
BT: You're now working on a project that's focused on medical management for dementia patients in ACOs. Can you tell us more about that project and how trust factors into the work?
Dr. Parchman: We're currently funded by the IMPACT Collaboratory, which is a National Institute of Aging-funded initiative, to work with ACOs on prescribing potentially inappropriate medications for patients with dementia. This raises clear issues of trust with both patients and their family members or caregivers. For example, they may ask, "Why was I started on this medicine in the first place?" So, there's a trust in the medical profession issue that arises.
Clinicians may also not trust data that's presented to them about how often they prescribe these medications. Clinicians may not trust patients to follow through on replacement services that might be safer and sometimes more effective than some of the medications. And then there's the issue of clinician and patient trust in the evidence behind the potential harm from these medications. Many clinicians say, "I know these studies show there's potential for harm from these medications but they're not like my patients." Finally, as a clinician there's trust in your organization to support you in decreasing the use of a service for which the potential for harm is greater than the benefit, and trusting your peers not to prescribe these potentially inappropriate medications.
BT: What do you hope to measure around trust with this project?
Dr. Parchman: We're training 30 clinicians across two ACOs to become clinician champions. Through a curriculum and a project workbook, we're going to partner with these clinicians to look at how they implement this work in their own setting and use the data they enter in the project workbook to discover how often issues of trust come up, what kinds of trust issues come up, and how they address them. (Find the workbook and curriculum at Taking Action on Overuse.)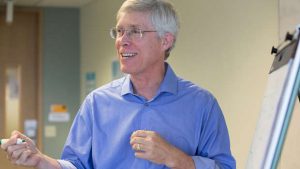 BT: What have you learned about trust from your work on de-prescribing opioids and older adults?
Dr. Parchman: Our work focuses on six building blocks for opiate medication management. When clinics engage with our team, coaches or facilitators help them look at how they are managing opioid medications. Clinics sometimes come to us when they unexpectedly find themselves inheriting patients who have legacy opioid prescription from a retiring provider. When those patients come in for refills, there's that difficult conversation about why they are on the medication and the potential for harm. Then they ask why they were started on the medication in the first place. It entails having what I call a "sense-making conversation" with patients, and we worked to develop scripts for those conversations. We suggest saying things like, "Well you know we used to think these medications were safe. We now know they are not. There's new evidence that these medications probably are not as safe as we thought." So, you blame the medication and don't blame the retiring provider.
BT: Historically, older patients are reluctant to have these shared decision-making conversations. Do you have any tips on engaging older adults in such conversations?
Dr. Parchman: It usually requires several visits. You have to build a relationship and frequently you find yourself in a position of saying, "OK, let's not upset the apple cart today. We will give you enough to last you for another month or two. But, I need to see you back, and we need to continue this conversation. In the meantime, I want to give you some materials for you to read and think about and then we can talk about some options for your care." The number one message is "I am never going to abandon you as a patient. I just want to make sure that you're safe."
BT: Can you share any insights from your practice facilitators, who need to convince clinicians to take the time to have those conversations?
Dr. Parchman: To have a conversation with the patient, you don't have to go into a 20-minute long conversation. The other thing is, not to put it all on the shoulder of the prescriber. We train medical assistants and nurses on how to have these conversations with patients so everybody on the team is on the same page. (Find these tools here.)
BT: Is there any additional advice you'd like to offer?
Dr. Parchman: Be patient. This work takes time.
Enhancing education, building trust and eliminating bias in urban and rural Mississippi
The University of Mississippi Medical Center (UMMC) and Magnolia Regional Health Center (MRHC) both share the mission of decreasing the shortage of primary care physicians, reducing health disparities, and improving health outcomes throughout Mississippi.
In an effort to increase the number of residents and fellows training in primary care programs, Internal Medicine residencies at UMMC and MRHC have developed a partnership to expose trainees to both traditional academic and rural community-based graduate medical education. The intent is to expand the curriculum to strengthen patient-centered relationships as a core feature through a focused emphasis on didactic and clinical activities. This project strives to eliminate health disparities among Mississippians based on race, geography, income or social status.
Project initiatives include:
Creating new educational activities and partnerships with both non-profit and privately funded organizations to enrich learner exposure to patients.
Expanding primary care resident curriculum, including a series of community-focused educational health topics and interactive lecture series, with input from various stakeholders from the community and other health care workers.
Educating students, residents and nursing leaders at local neighborhood centers, clinics and health fairs. The collaboration will focus on patient mistrust and physician bias, presented through a series of lectures, reflective narratives and community engagement activities.
Program quality and efficacy will be assessed by comparing patient assessments between residents actively involved in the program and those who are not. "Mississippi is the state known for having some of the worst health outcomes. We thought it would be great to have residents out in the community [in patients' homes and at community events] to see if there are improved health outcomes. Getting residents out into communities where patients live will help to restore trust," said Margaret Hayes Baker, MD, Program Director, Internal Medicine, MRHC and Director, Magnolia Hospitalist Group.
This project aims to strengthen the doctor-patient relationship by building trust with patients and decreasing bias in trainees. Project leaders will also measure the program's impact on retaining primary care physicians to practice in Mississippi after training.
"By accomplishing each of these outcomes, we will impact the health care of Mississippians by increasing the number of primary care physicians who are well-trained in delivering safe, equitable care to our diverse patient population," said Baker.
Building Trust Challenge: Parkland Health & Hospital System
Parkland Health & Hospital System is one of the largest public hospital systems in the country, averaging more than one million patient visits annually. The system also includes 20 community-based clinics, 12 school-based clinics, numerous outreach and education programs, and is the primary teaching hospital for the University of Texas-Southwestern Medical Center.
In collaboration with the ABIM Foundation and America's Essential Hospitals, Parkland conducted an inaugural Building Trust Challenge from January – March 2020. The challenge was hosted by Parkland's Center for Innovation and Value and Patient Relations departments and was designed to identify who was building trust within and outside of the institution.
To encourage challenge submissions, Parkland launched an organization-wide survey comprised of questions ranging from 'What does building trust mean to you?' to 'Are you building trust in your area?' This survey was first shared at the executive level, and then through various Parkland platforms, including a letter from the CEO, the staff newsletter, and through discussion at various meetings, including a population health forum. The challenge received 36 submissions; surpassing initial expectations.
Addiction Psychiatry Services was the challenge winner. Honorable mentions were awarded to The Village Project and Supporting Parkland Staff (SPARKS).
Addiction Psychiatry Services: Historically, acute care hospital settings have done a poor job of identifying and treating substance use disorders. The Addiction Psychiatry Services team is building trust by engaging patients during acute hospitalization to provide an opportunity for patients to obtain a substance use disorder diagnosis, participate in initial treatment and become engaged with ongoing outpatient treatments. The team has also built trust with community-based organizations to ensure patients have access to resources they need immediately after being discharged from the hospital.
The Village Project: In 2017, the Centers for Disease Control reported that Black people accounted for 13% of the U.S. population but represented 43% of new HIV diagnoses. The HIV Services Department identified that there was a health care delivery gap for HIV+ Black men ages 17-34 who have sex with men (BMSM) in the Dallas area and implemented a nine-month intervention program. Participants receive weekly visits from a dedicated case manager and peer patient navigator for the first six months, followed by monthly contact for the remaining three months. A customized care plan is created with the patient and a comprehensive acuity assessment is re-evaluated every 90 days. This initiative helps young BMSM access HIV care to achieve viral suppression and expands access to behavioral health in an outpatient care setting.
SPARKS: Supporting Parkland Staff (SPARKS) is a peer support program comprised of employee volunteers who receive psychological first aid training and provide confidential support to Parkland employees who experience a stressful patient-related event. In this peer-based support program, trust in implicitly built into the model because volunteers understand experiences at Parkland first hand. In the first 10 months of the program, 230 employees received peer support, showing significantly higher utilization than similar initiatives.
Keys to successful implementation included, yet were not limited to, gaining verbal support from organizational leaders, engaging in 1:1 communication with departments, streamlining the submission process, and ensuring a multidisciplinary effort, explained Sheryl Mathew, LCSW, ACM-SW, Grants & Research Program Manager at the Center for Innovation and Value at Parkland (CIVP).
"Establishing and maintaining trust is essential if we are to provide the best possible care for our patients, our employees, and the community. We saw the opportunity to take advantage of the creative thinking from the ABIM Foundation to highlight the importance of trust and recognize the types of behaviors and activities that will promote greater trust within our institution and between Parkland and the community we serve," said Fred Cerise, MD, MPH, President and CEO of Parkland Health & Hospital System.
You can read more about Parkland's Building Trust Challenge here.
Growing the field of trust research with AcademyHealth
In May, the ABIM Foundation and AcademyHealth convened 75 researchers, clinicians, patients and funders to chart the course of research on trust and health care for the next several years. The meeting, which also kicked off AcademyHealth's new research community on trust and health care, covered a scan of existing research and identified areas where more is needed. Through guided conversation, participants discussed opportunities and methods to broaden and deepen the field of trust research.
Jodyn Platt, PhD from the University of Michigan and Lauren Taylor, PhD from the Hasting Center grounded the conversation with an overview of their literature review and their initial findings. The scan included looking at research on patient trust in clinicians, clinician trust in other clinicians, patient and clinician trust in organizations and patient and clinician trust in the system. In addition, the review paid particular attention to health equity, confidence in science and building and repairing trust.
Participants went on to have a rich conversation about potential areas of research, and voted on the top 10 areas to explore moving forward:  
Advancing Trust at the Organizational Level
How can trust be defined and measured at an organizational level (e.g., between patients and organization, community and organization, employees and organization, and clinicians and organization)?
What can organizations do to address influential structural determinants of distrust, such as partisanship and politicization, structural racism, and systems of privilege in order to improve trust with patients and within their systems?
Perform an analysis of positive deviance to identify fundamental drivers of optimal trust within organizations with diverse populations, studying signals at different levels (e.g., patient-clinician, system-clinician, and system-community).
What are the policies, partnerships, and practices that constitute the trustworthiness of organizations?

What is the impact of new organizations in new communities? Mergers? Workforce-community concordance? Patient-clinician concordance? A pipeline of trainees?

When organizational policies and values prevent clinicians from providing the care they think they should provide, how does that affect their trust in organizations?

What are the downstream effects of the loss of organizational trust on patient and clinician outcomes?
Advancing Trust at the Clinician Level
Why is trust in nurses consistently high vs. less consistent trust estimates in physicians—why the disparate scores and consistency? (correlate: why is trust in nurses more global and trust in physicians more personal?)
One of the drivers of patient trust is the perception that their doctor cares about them. How does a clinician convey that they care about a patient? What are the things they do or don't do?

What are the behaviors, language, attributes?
What makes patients trust their clinician or health care organization more, and what would diminish or threaten that trust?
What underlies trust? Where is the locus of trust, mistrust, confidence?

What is the level of trust clinicians have in patients and their caregivers, and what interventions might most meaningfully increase that trust?
Advancing Trust at the Patient and Community Level
What are longitudinal trends in trust at the population level, and what factors affect change in trust?
What are the frames (e.g., patients, communities, institutions, or policies) for advancing trust that would have the biggest impact on health equity?

How can we center the community and their needs?
Additionally, participants discussed the importance of the study setting, populations of focus, measurement, methods, potential partners, and possible interventions and outcomes applicable to the research topic.
AcademyHealth and the ABIM Foundation plan to build on these topics by fostering a community built around research on trust and advocate for these issues to receive attention and funding. To learn more or join the community, contact Kelly Rand at krand@abim.org.