Author:
Kate Carmody, MPH
ABIM Foundation
Building Trust at Northwestern Medicine through the African American Transplant Access Program
Black Americans attempting to gain access to transplants face significant disparities. These include lower rates of referral to specialty care (nephrology, hepatology); referrals at advanced stages of disease; lower rates of referral for transplant evaluation; lower likelihood to make it through the evaluation process and be listed as a transplant candidate; higher likelihood to be delisted once listed; and lower likelihood to actually receive a transplant.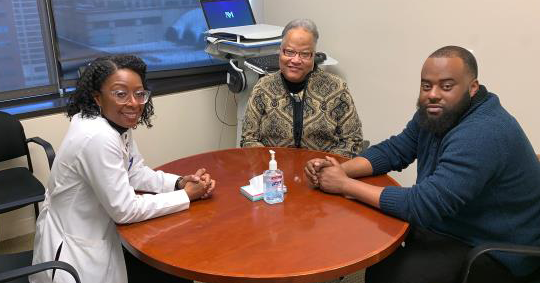 The African American Transplant Access Program (AATAP) at Northwestern Medicine seeks to earn the trust of Black patients who need transplant surgery. Each patient meets with Dinee Simpson, MD, the project's leader and Illinois' first Black female transplant surgeon, and a social worker to explore and address the myths and misconceptions that exacerbate their distrust of the health care system. Following the intake visit, regular check-ins with both Dr. Simpson and the social worker help to answer questions, provide support, and shepherd the patient toward listing and transplantation.
The program was implemented in early 2019; between 2017 and 2019, Northwestern saw a 55 percent increase in evaluations of Black patients, and an 18 percent increase in the number of Black patients listed for transplants.
AATAP builds trust through:
Provider-patient racial concordance
Patient-centered communication
Use of lay language
Removing time constraints on the visit
Cultural competency (Knowledge of common vernacular used, food preferences, and religious beliefs)
Demonstration of care and increased patient comfort with this potentially life-saving process
Learn more about Northwestern Medicine's AATAP program.