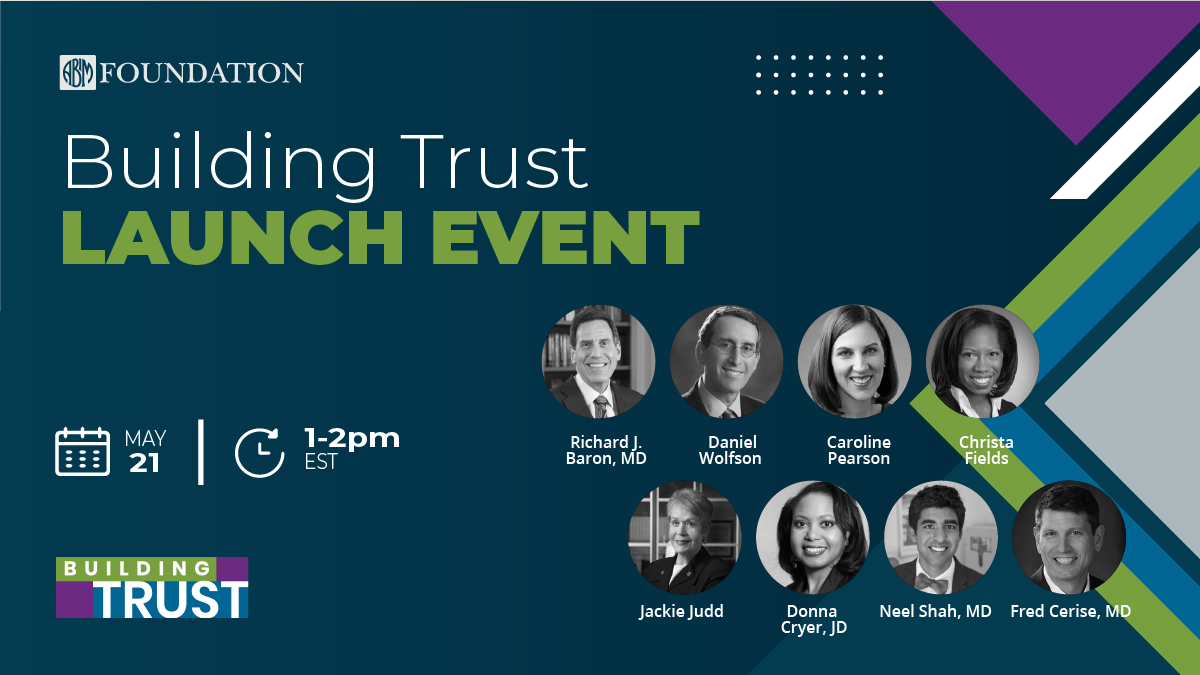 Building Trust Launch Event
Poll shows gaps in public's trust in health care systems and clinicians—and how COVID affected how physicians gauge trust
The ABIM Foundation will kick off Building Trust, a dynamic initiative to improve health care by fueling conversation, research and promising practices that help increase trust between patients, physicians and other stakeholders.
New polling data from NORC at the University of Chicago will provide a look at the current state of trust in health care in the United States. Declining trust affects nearly every facet of society, and health care is no exception. To improve relationships between heath care stakeholders and bolster clinical outcomes, leaders from all parts of the health care system are coming together to consider how to elevate trust and improve care.
Speakers include:
Richard J. Baron, MD – President and CEO of the American Board of Internal Medicine and ABIM Foundation
Daniel Wolfson – Executive Vice President and COO of the ABIM Foundation
Caroline Pearson – Senior Vice President at NORC at the University of Chicago
Christa Fields – Manager, Health Care Strategy at NORC at the University of Chicago
Panel discussion:
Jackie Judd –respected health care journalist and former Vice President and Executive Producer of Multimedia at the Kaiser Family Foundation (moderator)
Donna Cryer, JD – Founder, President and CEO of the Global Liver Institute
Neel Shah, MD – Founding Director of the Delivery Decisions Initiative at Harvard University's Ariadne Labs
Fred Cerise, MD – President and CEO of Parkland Health & Hospital System
Questions? Contact Lauren Fresconi, LFresconi@MessagePartnersPR.com, 302-521-7592
Follow us on Twitter @ABIMFoundation, and join the conversation using #BuildingTrust.