Category:
Guest Blogs
Fighting maternal health disparities and building trust in the Pittsburgh Region
Building trust is more important and more challenging than ever as our nation attempts to address years of injustice and inequities in health care. Building trust can be awkward when professionalism confronts grassroots savvy, and building trust can be uncomfortable when there are imbalances of power in terms of resources, access to decision makers, and control of activities.
But we have to move forward, experimenting with and acquiring lessons in building trust along the way. For the past 30 years, the Jewish Healthcare Foundation (JHF) has offered a unique brand of activist philanthropy to advance health care innovation, advocacy, collaboration and education in the interest of better population health. Among the most concerning issues locally are the alarming maternal health disparities that disproportionately affect people of color – particularly in the Pittsburgh region. JHF and its nonprofit operating arm, the Women's Health Activist Movement Global (WHAMglobal), made a commitment to improve maternal and child health outcomes in the Pittsburgh region and across the Commonwealth of Pennsylvania, while amplifying the voices of pregnant women experiencing inequity. To achieve meaningful legitimacy in doing this, we had to assemble the right team. This provided an early challenge.
JHF built philanthropic partnerships to fund grassroots perinatal community-based organizations at the forefront of fighting maternal health disparities. And in 2019, JHF joined the inaugural cohort of the Merck for Mothers Safer Childbirth Cities Initiative, receiving a $1 million, multi-year grant to foster local solutions to help cities become safer, more equitable places to give birth.
With funding from the Heinz Endowments and Merck, through Merck for Mothers, the company's $500 million initiative to help create a world where no woman dies giving life, JHF established the Pittsburgh Safer Childbirth City Community Fund, which awarded grants of $20,000 to community-based maternal health organizations that are trusted in their communities and have a clear mission toward improving maternal health outcomes for those they serve. These grants ensured that grassroots organizations could establish the platform needed to continue their work and promote maternal health equity in our region. They also built support for our leadership role.
We have moved forward with some tensions, and we are learning to moderate these as much as possible. WHAMglobal convenes health care systems and stakeholders through learning collaboratives, and offers ample opportunities to air opinions. We also established and lead the Pennsylvania Perinatal Quality Collaborative, designing equitable maternal health solutions and directly addressing the implicit biases in maternal health care.
We established a Full Court Press initiative to further advance key policies related to perinatal community health workers and doulas, midwives and the critical Women Infants and Children (WIC) program. JHF organized the 2020 Pennsylvania WIC Stakeholders Collaborative Summit, which identified strategies to reinvigorate the program in Pennsylvania. And in 2021, building on years of work advancing community health workers and doula-work, WHAMglobal convened a statewide advisory group to create more equitable access to doulas and to develop a statewide infrastructure to support the work of doulas and perinatal community health workers in the state.
While we have celebrated progress in this work, there is still much to be done and resolved. Hopefully we can continue to move forward with open communication among those with diverse opinions, and trust in our efforts to allow all voices to be heard respectfully. The COVID-19 pandemic has exacerbated many of these disparities, and our national response has demonstrated that many gaps remain to be filled. We believe that the most equitable solutions will come from respecting the patient experience of historically marginalized voices as we advance better program design, attract philanthropy and pursue policy reforms.
---
Karen Wolk Feinstein PhD is president and chief executive officer of the Jewish Healthcare Foundation (JHF) and its three operating arms, the Pittsburgh Regional Health Initiative (PRHI), Health Careers Futures, and the Women's Health Activist Movement Global (WHAMglobal). Appointed the Foundation's first CEO in 1991, she has made JHF and PRHI into a leading voice in patient safety, healthcare quality, health policy, and workforce issues.
Ensuring equitable access to clinical trials
Although many at UT-Southwestern worked together to reduce barriers to opening clinical trials related to COVID-19, obstacles to implementing still existed. To provide access to potential therapeutic medications through a clinical trial, we needed to obtain consent from the participant. We usually do this through an in-person process with the investigator, coordinator, and the patient, but we could not enter patients' rooms because there was not enough personal protective equipment (PPE). We received permission to obtain electronic consent by DocuSign, a process ideal for those who have an email and cell phone.
In our county hospital, Hispanic patients accounted for 90 percent of the admissions for COVID-19, and often did not have cell phones or an email address. Instead, we used the hospital's tubing system to send a paper copy of the Spanish-language consent form to the nursing station. The patient's nurse could pick up the paperwork there, and bring it to the patient to read. We employed bilingual coordinators to help facilitate coordination and translation of complex medical information from the investigator to the patient.
After explaining the study and obtaining permission to proceed, we then obtained a digital signature by DocuSign. We had the patient's nurse take a donated iPad into the room of the patient, and sent the DocuSign document to an email account we created for the study. The coordinator would then walk the patient through the process of signing their name on the consent form on the iPad. After the investigator signed the consent, DocuSign would then send a completed signed copy to the coordinator, who printed the written consent and scanned it to the patient's record. Through this elaborate, time-consuming effort, we were able to provide access to clinical trials to uninsured Hispanic patients who faced both language and digital barriers. We promoted health equity to uninsured members of the Hispanic community who were hardest hit by the COVID-19 pandemic in our region.
In our University Hospital, we were able to go to patients' rooms (either in the ICU or on the floor) but not enter them, due to PPE shortages. If the patient did not have an email, we could communicate by phone or a video conferencing application on the hospital's computer system. Together with the nurse, who was in the room with the patient, we explained the study, answered questions, had the patient sign their consent, and the nurse sign as the witness. The nurse then brought the consent to the window or door so a member of the research team could take a photograph. Subsequently, we obtained iPhones, which the nurses used to take a picture of the consent and upload it directly into the chart. In those studies that required a physical exam, the nurse was able to record heart and lung sounds through a Littman stethoscope, which the investigator listened to from the hospital's computer system. We have used technology and teamwork to find innovative ways to perform research procedures during this unprecedented time. We have tried to build trust with our patients and our staff by working with them to provide access to therapies for COVID-19.
---
Mamta Jain is a board-certified Infectious Disease specialist and Professor of Medicine at UT Southwestern Medical Center. Her goal is to provide access to novel therapies through clinical trials. She has focused her efforts in medically underserved populations to help provide access to treatment for infectious such as HIV, hepatitis C, influenza, and now COVID-19.
Trust: too much, too little… just right
I trusted the science but this time I had a hard time believing it. It was with great skepticism that I read in numerous articles that 50% of patients were not taking their medicines as prescribed. I thought: "Not my patients – my patients trust me, they've known me for decades, they know I care." Having the honor of practicing in the same neighborhood on the west side of Chicago for more than 30 years, I was proud of the relationships I had developed with patients.
When I assessed my patients' adherence as part of my evaluations, I was always met with an affirmation that they were indeed taking their medicines. So I decided to test the literature. I would ask my patients if they were really taking their medicines as they said they were. Repeatedly they answered yes.
Too much trust in my effectiveness in conveying the importance of my medical recommendation was the problem. What was I missing? Were my patients truly that different from the rest of the nation? As I reflected, many of my patients' outcomes were not at goal despite being on appropriate effective therapies. Could I be wrong? Could my patients be hiding their true medication behaviors? How was I to find out?
With some trepidation, I changed my approach. I shared with a patient named Calvin: "Your blood pressure is still not under control, yet you tell me you are taking your three medicines. I have read that many patients—almost half—do not take their meds as prescribed. Are you really taking your three meds every day?"
He looked at me and paused, clearly hesitant to respond. Encouraging him to share his true medication-taking behavior, I promised not to admonish him if he was not taking his meds as prescribed. "But the last time I told you I wasn't taking them, you yelled at me!" he said.
I had too little trust in my patients. I only uncovered their non-adherence after I changed my attitude and began to trust that patients were making rational decisions in not taking their medicines. Only after thanking them for sharing, and often apologizing for my past admonitions, could we uncover their individual reasons for non-adherence.
Much to my surprise, their reasons for non-adherence were myriad and quite rational. Only when trust was just right could we move forward and address these reasons. As adherence increased, blood pressures and sugars began to drop and multidrug therapies were deescalated as patients were controlled with fewer drugs taken regularly.
---
Dr Brown is a practicing internist in Chicago. She has served on the ABIM Board, as Governor for the ACP and currently as Director of Practice Redesign at the AMA. From her decades of experience she has found trust between physician and patient to be a necessity to delivering effective patient care.
This is not a safe space: trust and inequities in the time of COVID-19
During a late-night shift in the Emergency Department (ED) in April, I took care of Mr. S, a man in his early twenties who presented with a sickle cell vaso-occlusive crisis. COVID-19 testing had returned negative. The carefully composed steps in his hematology care plan had begun to ease his pain. Yet his oxygen levels were hovering just below a safe level for discharge. In addition to further workup, he would need to stay the night, at least while requiring oxygen. Mr. S asked me to call his parents who could not visit him in the ED. They would not be pleased, he warned me; they wanted him home. After discussing the difficult balance of risks – those of staying in the hospital during the COVID surge or going home without oxygen – Mr. S and his parents ultimately agreed to him staying overnight. Even so, Mr. S's father's parting words were "if my son gets COVID in the hospital, it's on you." These words and the profound distrust they conveyed echoed in my head throughout the evening.
A few weeks later, on a late Friday afternoon during my telemedicine clinic, Mr. J was describing by phone what could have been a gout flare in his knee or, far more troubling, a case of septic arthritis. After staffing with my attending, I explained my concerns to Mr. J and recommended he go to the ED. I talked him through the new layout and triage process. Unlike Mr. S's family, I knew Mr. J well – I had taken care of him in inpatient and outpatient settings since I was an intern. An elderly man from Puerto Rico, his experiences with gang-related violence decades ago had left him with PTSD, depression, and severe anxiety. When I told him I was graduating from residency, he said he wanted to give me one of his late mother's rosaries. By Monday, he had not visited the ED and I reached back out. He said he simply could not overcome the fear of getting COVID-19. The red-hot pain, redness, and swelling in his knee had fortunately resolved over the weekend. For Mr. J, his distrust in the hospital's ability to keep him safe superseded the trust we had each built over the course of three years.
Mr. S and Mr. J are both affected by multifold inequities in our health system, Mr. S as a Black man with sickle cell disease and Mr. J as a Latino man with mental health problems. They both come from neighborhoods that were hotspots for COVID-19 and had carefully avoided infection. Personal and institutional distrust affected the way they navigated non-COVID care within a pandemic-era hospital system and how they interacted with me, a white trainee. Concerns about infection likely shape every patient's decision-making about visiting hospitals now. However, I fear that for people who have experienced medical bias or substandard care in the past, concerns about safety within the hospital space could pose devastating barriers to care. Learning about the mortality disparities in COVID-19 further validates distrust. Ongoing research has begun to examine decreases in standard care services provided during the pandemic [i],[ii]. A focus on inequities must inform this research. Interventions to address the findings must emphasize safety and trust in marginalized communities; for example, by providing more community-embedded services.
At every turn in the way the COVID-19 pandemic has played out, the American medical community has only retroactively recognized the inequities that compound each other to lead to Black and Brown people dying at much higher rates than their white counterparts. We must probe beyond the COVID-19 diagnosis to fully understand inequities in pandemic-era care.
---
Alyse Wheelock is a first-year fellow in Infectious Diseases at Boston Medical Center, where she also completed internal medicine residency.
---
[i] Garcia S, Albaghdadi MS, Meraj PM, et al. Reduction in ST-segment elevation cardiac catheterization laboratory activations in the United States during COVID-19 pandemic. J Am Coll Cardiol 2020 April 9
[ii] Lange SJ, Ritchey MD, Goodman AB, et al. Potential Indirect Effects of the COVID-19 Pandemic on Use of Emergency Departments for Acute Life-Threatening Conditions — United States, January–May 2020. MMWR Morb Mortal Wkly Rep 2020;69:795–800. DOI: http://dx.doi.org/10.15585/mmwr.mm6925e2external icon
My passion for running began as a means to an end. At the time I started running, I was a wrestler, and I ran as a way to build endurance and control weight. But over the years, things changed. This means to the end became the sustaining quality and foundation for my physical activity, and remains so some 30 years later.
Running requires consistency, support through rest and good nutrition, and the discipline to keep putting one foot in front of the other in a rhythmic but often mundane process. In many ways, it's a lot like what I've experienced as we've worked to pursue a culture of trust at the American Physical Therapy Association during my first four years as chief executive officer.
Trust is a term you hear a lot in organizational settings. At a recent association leadership conference, one speaker described trust as jet fuel; another described it as "the core competency of leadership." Trust, in other words, was a resource, or a skill that could be honed. Or maybe, somehow, a little of both.
I think those experts missed the fundamental properties of trust. Trust isn't something to be expended, or a set of techniques to be applied to situations — it's a process, a practice, a pursuit. Trust isn't a business book chapter or PowerPoint buzzword that should be covered before moving on to the next topic—trust is an ongoing exercise that empowers organizational and individual fitness.
Both at my association's level and for me as an individual, exercising trust has become a daily pursuit to seek a higher level of functional fitness. It's like running: it has to be consistent in approach, supported in behavior, and disciplined in application.
And there are no shortcuts. If we could've purchased hi-test trust fuel or sent staff to a continuing education weekend for a certificate in trust, we would've been all-in. Instead, we knew we'd have to commit time, effort, discipline, and a posture of learning. We needed to learn to walk the walk and talk the talk of building trust. Trust would become a form of exercise, with the goal to gain flexibility, strength, and endurance to enhance the credibility of the organization to its community of stakeholders.
However, before we could begin our exercise program, we needed to take stock of our current state of fitness. And we needed to gain insight into the best ways to move. We needed to reflect, reconcile, and then seek results.
Our reflecting began with an effort to better understand the perspectives of our stakeholders and the perceptions of potential partners. We engaged outside consultants who offered us sound, research-driven information on the perspectives and perceptions of key audiences. Those insights helped us build a strategic plan and new brand promise that seeks to close our trust gaps, including becoming a more relevant, credible, and consistent source of information, programs, and services.
Reflection led to reconciliation. As an organization, APTA had grown through advocacy and the advancement of science that confirms the efficacy of physical therapy. The profession had achieved independence in its educational enterprise including accreditation, and it has become a recognized health care profession at the state and national levels. But that growth came at a price: the erosion of trusting relationships with many of the health care professions with which we must collaborate to best serve our patients. We needed to reconcile our hard-fought independence with the greater value of interdependence, and we needed to embrace trust as the means by which we could achieve that optimal goal. This required some long-overdue conversations with organizations that were opponents in past turf battles, to move from a posture of competition to collaboration.
But ultimately, we needed to deliver results. Reflection gave us a playbook and a brand that we would seek to deliver. Reconciliation engaged other organizations, shifting foes to friends in the pursuit of shared goals. Results are the practices, programs, and outcomes that will validate our exercise program.
Those results are emerging. The one thing we have discovered so far is that exercising trust is worth the effort. We are improving, learning, and seeking new strategies of engagement with stakeholders, from patients to other professional societies. This is how we grow and improve our fitness for service, and our fitness to deliver the best possible care.
As we grapple with the future of health care, we can be certain that trust will play a central role at all levels. We can no longer rely on white-coat symbolism. We need to turn to a pursuit of partnerships with individuals in care, and with communities impacted by what we do.
Building trust by identifying, scaling, and sustaining successful practices will require the rhythmic process of putting one foot in front of the other, over and over and over again. The commitment to inclusion, learning, and communicating with others necessitates that we don't think of trust as a commodity, but as a way of doing—a steady, consistent, disciplined effort to stay fit, healthy, and prepared for the challenges ahead.
Find harmony in the hospital
Several years ago, I was invited by a large hospital system in the Midwest to facilitate a conversation between a group of physicians and nurses who, according to the vice president for clinical affairs, "were at war with one another."
The origins of the war were murky, but there were frequent complaints from both sides about a lack of trust and conflict between the two groups that stretched back years. At the beginning of the day, and as people were milling around in their respective tribes, the VP pointed out one nurse and one physician to especially watch out for, "… because whenever they're together distrust and conflict aren't far behind."
These two warring professionals became my "canaries in the coal mine." If they could somehow manage to find common ground, anything might be possible.
After a short introduction and description of how using an us versus them logic was ultimately enervating, eroded trust, and was a potential source of burnout, I invited the group to think about the things they loved about their work and/or lives, and to speak them into the circle in which the room chairs had been arranged.
People talked about aspects of their work they loved, their children, their families and friendships, hobbies, and the like. When it came to the physician I'd been warned about, he started off by saying, "You know, I've been practicing medicine for the past 30 years and I still enjoy it somewhat, but what I really love is playing the organ in my church. I live for Sundays when I can get lost in the music and the sound of the organ in such a special space."
The nurse, who was the next to speak, turned and said, "That's really amazing because in the 25 years that we've worked shoulder to shoulder together, I never knew anything that really grabbed you outside of work." With misty eyes she went on to say, "Like you, I enjoy my job as a nurse, but to me at this point it's just a job. What I really love, is playing the organ in my church, and for exactly the same reasons!"
There was a brief silence followed by smiles and clapping in appreciation of the moment that had just occurred. The nurse and the physician, too, were smiling at each other, recognizing at that moment, in fact, they were more alike than different. More importantly, they each took a risk and trusted a process designed to tap into what we're like when we're at our best.
Throughout the day, during small and large group exercises, there was a noticeable shift in the tone and content of conversations within and between the two professional groups. It was as if what had happened to the two "canaries" had come home to roost as a model for how to take risks, speak from the heart, and trust in one another's good will and intentions.
Creating trust among medical professionals is not only possible, it is the bedrock on which our day-to-day work is based. It is also an antidote to the isolation and fear that so many health professionals feel and that threaten to undermine trust in one another and of our institutions.
---
Frankel is Professor of Medicine and Geriatrics at Indiana University School of Medicine where he directs the ASPIRE Fellowship, (Advanced Scholars Program for Internists in Research and Education). He is also a senior scientist at the Regenstrief Institute, Indianapolis, and holds an appointment in the Education Institute at the Cleveland Clinic.
Trust should be a two-way street
When researchers and clinicians talk about trust in health care, they are almost always talking about patients' trust in physicians. But patients can suffer when doctors do not trust them, as the woman quoted above explained in a focus group that Public Agenda conducted for a project about making care more patient-centered, in partnership with AcademyHealth and the Robert Wood Johnson Foundation (RWJF).
In October 2020, Public Agenda released findings from representative surveys that compared the perspectives of people insured by Medicaid and the primary care physicians who treat them about what can build and damage mutual trust. The report, titled "A Two-Way Street: Building Trust Between People with Medicaid and Primary Care Doctors," was one of eight projects about building trust funded by RWJF.
Public Agenda's survey findings show that most people with Medicaid and most primary care physicians who treat them believe that it is important both for doctors to trust their patients and for patients to trust their doctors. The research also found that most of these physicians and most people with Medicaid think doctors and patients should be equally responsible for building trust
The research found that most primary care doctors (79 percent) feel that their patients with Medicaid are just as trustworthy as their patients with other types of insurance. But if someone anticipates that doctors will mistrust them, it could be hard to forge healthy doctor-patient relationships. In fact, only about half of people with Medicaid (46 percent) think that primary care doctors trust people with Medicaid as much as they trust people with other insurance. Twenty percent of them think doctors trust them less, and about one-third say they do not know.
Medicaid covers a relatively high proportion of Black and Latino/a Americans. Several people with Medicaid in focus groups described feeling mistrusted or disrespected by health care providers because of both their race and their insurance type:
What do primary care physicians say affects their trust in people with Medicaid? According to Public Agenda's survey, primary care physicians trust people with Medicaid more when they are actively engaged in their care. For example, most primary care doctors (71 percent) also say they would trust someone with Medicaid more who told them about their goals for their health and well-being. When asked about the two most important things people with Medicaid can do to make doctors trust that they want to do what is best for their health, 56 percent of primary care doctors prioritize providing complete, honest information.
Trust-building behaviors that primary care doctors also prioritize include people with Medicaid having reasonable expectations about their care, following treatment plans and participating in discussions and decisions about their care. The behaviors that primary care doctors say can damage their trust include patients leaving out information, exaggerating symptoms and insisting on specific medications or treatments.
Because primary care doctors express more trust in people who play more active roles in their care, interventions aimed at building patient activation and engagement may have positive effects on providers' trust in patients—an outcome that future research on those interventions should measure. Structuring primary care practices to provide the time and space for good communication can help create the conditions for mutual trust.
Primary care doctors who treat people with Medicaid largely understand that they need to trust patients in order to provide high-quality care. Do other types of medical providers understand this as well? To move health care away from paternalism and toward centering patients, more research and dialogue are needed about how providers' trust in patients correlates with decision-making styles, safety practices and patient outcomes. More research and dialogue are also needed to explore variations in providers' trust in patients comparatively across specialties, physician demographics and patient populations.
How can we ensure that doctors trust patients when they describe their symptoms, worries, behaviors and side effects? With rising COVID-19 cases and deaths, which disproportionately affect people of color, doctors' trust in patients can be a matter of life or death. And with the prospect of a COVID-19 vaccine on the horizon, ensuring that people trust the information and interventions that their doctors are providing will be crucial to safeguarding public health and restarting the economy.
---
David oversees the development, management, and implementation of Public Agenda's research projects and on collaborations with Public Agenda's public engagement and higher education and workforce engagement departments. His research includes projects in health care, higher education, K-12 education and civic participation.
Rebecca works on all phases of Public Agenda's research and evaluation projects including: project design, data collection, analysis, and reporting. She is experienced in a broad set of qualitative and quantitative research methodologies such as participatory design, surveys, individual interviews and focus groups.
The virus does discriminate
"The virus does not discriminate," the infectious disease experts told us. As the COVID-19 pandemic reached the United States, that warning was issued with the best of intentions. If you search for that phrase today on Twitter, you'll find the message being repeated, as public health officials implore all Americans to protect ourselves and others from the latest surge in cases of COVID-19.
From my home in Brooklyn, an early epicenter of the pandemic, it didn't take long to wonder if something was awry with that message. At every turn, our understanding of COVID-19 and our response to it have been complicated by mixed and misleading messages. Science denial and political motives have introduced misinformation. At the same time, rapid shifts in evidence and knowledge have required new policies and messages. The combination of bad faith and emerging science has muddled public understanding and fueled mistrust. For some of us, mistrust is deeply self-protective. A history of medical exploitation and the systematic denial of access to the opportunities and social conditions that determine health gives millions of Black Americans cause to doubt that their lives really matter.
From mid-March through mid-April, as I sheltered safely in my apartment in one of New York City's whitest, most affluent neighborhoods, I listened with fear and grief to the round-the-clock sirens from ambulances carrying COVID-19 patients to our local hospital. Yet few of my neighbors were among them. Apart from those who are frontline health care professionals, the majority of my neighbors are not essential workers. They aren't riding the subway to work. Most of my neighbors, based on their demographics, are the kind of people who have good health insurance and paid vacation and sick days and cars and gym memberships and healthy food deliveries. There's a good chance that they don't know anyone who has been incarcerated. It's unlikely they have had negative experiences with the police or medical professionals.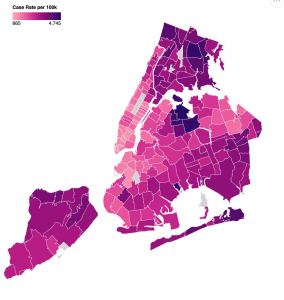 When New York City started to release data on COVID-19 cases, hospitalizations, and deaths by race and ethnicity (in April) and then by zip code (in May), the zip code covering most of my neighborhood (11215) stood out on the color-coded map as a poignant patch of pale pink, representing the lowest infection rate in Brooklyn. I don't know if the graphic designers chose this palette intentionally, but its symbolism was not lost on me. In New York, the impact of the virus on people of color and residents of majority-Black and Latinx zip codes has been particularly devastating. Our COVID-19 maps paint a graphic picture of Blackness as a co-morbidity here and across America (when data is made available—a problem in itself). They awaken my understanding of why so many people cannot trust experts. The experts were wrong: the virus does discriminate. The virus discriminates not because of biology, but because we as a society allow it to. They deepen my understanding of why so many people do not trust our country's leaders. If we cannot trust in our systems to protect our most vulnerable people from a pandemic virus, we cannot trust them at all.
For several years, I've been participating in efforts to help build and rebuild trust in health care. Most of my work on trust has been at the levels of interpersonal relationships, team behaviors, and organizational cultures. When I've looked at the systemic level, the focus has leaned towards effective public engagement or solutions for repairing the health care system itself. We've assumed in good faith that if we rebuild trust in health care piece by piece and publish enough respectable articles about best practices and the role of professionalism, we will catalyze change. Those strategies are still meaningful, but they aren't enough anymore. COVID-19, with its devastating impact on Black and Brown people, is evidence enough that wider systems of injustice in America not only drive bad health outcomes but also betray our founding values. What if we admit that the distrust in our country's institutions is warranted? What if we accept that our failure to mitigate COVID-19 is not only a consequence of inequities in our health care system, but is so enmeshed in systemic injustice that we cannot fix it as if it were a quality improvement initiative?
By June, Brooklyn's Grand Army Plaza, the gateway for thousands of ambulances on their final approach to our local hospital, had become the gateway for thousands of mask-wearing protestors to join the Black Lives Matter marches. When the sound of sirens was replaced by the sounds of chanting and police helicopters, it was a call to action for all of us who are serious about rebuilding trust. It demands that we listen better. Health equity cannot happen until we reckon with systemic racism. Trust cannot be won until we earn it at the most fundamental level. If we want to do better, we need to rise to the challenge of rebuilding our country based on social, racial, and economic justice. It may feel uncomfortable to those of us who have spent our lives believing that professionalism required us to politely avoid crossing the boundary between science and politics. But the pandemic compels us to do just that. It's time for physicians and health care leaders to use our privilege to dismantle the unhealthy systems that undermine our national wellbeing. This is how we will earn trust.
---
Tara Montgomery is Principal at Civic Health Partners, an organization she founded after 15 years leading Health Impact at Consumer Reports. As a coach, speaker, and writer, she guides leaders through the discovery of ethical solutions and trust-building strategies that integrate empathy and evidence.
Amidst the pandemic, building trust between patients and health care providers
COVID-19 has exposed many frailties in the American health system but has it done some good for Americans' attitude towards it? A recent Gallup poll shows that over 90% of Americans approve of health care providers' handling of the COVID-19 response. With daily evening cheers and other signs of enthusiastic support, Americans' support for health care professionals may be at an all-time high. While Americans may praise the efforts of individual caregivers amidst the pandemic, we know from survey research that Americans' trust in the health care system has been eroding for many years. If we hope to maintain this newfound appreciation for health care providers, we must take a good look at our system and how we can create an environment conducive to trust.
The ABIM Foundation's Building Trust initiative seeks to elevate the importance of trust as an essential organizing principle to guide operations and improvements in health care. To support the initiative, Public Agenda has conducted interviews with several consumer and patient experts and advocates about opportunities they see for advancing trust in health care. This will provide the initiative with actions and practices that promote patient trust in their clinicians and the health care system.
One theme that has emerged so far in the interviews is the importance of ensuring that health care facilities are truly accessible. It is hard to trust someone if they don't devote effort to making their space accommodating to you. Maya Sabatello LLB, PhD, Assistant Professor of Clinical Bioethics in the Department of Psychiatry at Columbia University College of Physicians and Surgeons with decades of experience as a disability rights advocate and scholar says that we need to confront our "generalization of needs" concerning accessibility. "The ramp isn't enough," she says. "It doesn't help a deaf person. Think about the postings in medical institutions. They rarely include braille." These physical barriers can make patients with disabilities feel unwelcome and reinforce the exclusion they may experience from society at large.
Another theme that has emerged is the need to not only remove physical barriers but actively create welcoming spaces for marginalized patients. Kellan Baker, MPH, MA is the Centennial Scholar in the Department of Health Policy and Management at the Johns Hopkins Bloomberg School of Public Health. As a transgender man, he can attest to the pervasive discrimination that LGBTQ people, especially transgender people face, even in health care settings. "Even if people aren't overtly experiencing discrimination, they are still guarded." Baker says that to create trust, robust nondiscrimination policies must be created and prominently displayed in the waiting room area. He also noted the need for respectful and inclusive data collection in healthcare settings about patients' sexual orientation and gender identity. Health care staff must also know how their behavior creates either a welcoming or hostile environment. "Cultural competency training [must] be made available not only to providers, but to all staff who patients may interact with."
Over the coming months, the ABIM Foundation, Public Agenda, and the National Patient Advocate Foundation will be diving deeper into this question of what it takes to build sustained trust in the health care system from the perspective of patients, consumers and caregivers. To inform this work, we'll be talking with many other stakeholders about what's working all over the country and what people want to try. As we step into an uncertain future with COVID-19, this knowledge can help us meet the challenges of the pandemic and understand how to seize the opportunities to build greater trust.
---
Treston Codrington is the Public Engagement Associate at Public Agenda. He is a writer, community organizer, and proud native of Brooklyn, New York. With a wealth of local and international engagement experience, his goal is to bridge the divide between communities, scientists, and policy-makers and help facilitate co-productive processes with these stakeholders to improve our world.
Matt Leighninger leads Public Agenda's work in public engagement and democratic governance and directs the Yankelovich Center for Public Judgment. Matt is a Senior Associate for Everyday Democracy and serves on the boards of E-Democracy.Org, the Participatory Budgeting Project, the International Association for Public Participation (IAP2USA), and The Democracy Imperative. In the last two years, Matt developed a new tool, Text, Talk, and Act, that combined online and face-to-face participation as part of President Obama's National Dialogue on Mental Health. He is author of The Next Form of Democracy (2006) and co-author of Public Participation in 21st Century Democracy with Tina Nabatchi.
"Covid-19 was initially hailed as the great equalizer…but it arrived in America and immediately became American: classist, capitalist, complacent." Teju Cole, "We can't comprehend this much sorrow." New York Times, May 24, 2020
I have had the opportunity to deeply listen and pay attention to my own and many health care providers' intense grief over how our health care system has failed people of color. None of this is new; it has merely been intensified and unmasked in the pandemic. To be clear, my experiences come as the result of a lifetime of immense, largely unearned, privilege – professionally, socioeconomically and racially.
I hear this grief because of my role in helping organizations develop and sustain peer support programs. Since the pandemic began, I have provided virtual peer support to dozens of peers. Many of them share their grief and anger over the widespread structural inequities that our society has ignored and sometimes actively perpetuated. They speak about their mistrust of a health care system that has prevented and at times even co-opted us into propping up structures that prevent us from providing the kind of care we entered the profession to provide. They voice anger and mistrust of government and leaders for their lack of transparency and ultimate failure to provide resources that are needed to protect our particularly vulnerable populations.
As with many intense and complicated life challenges, my personal experience of these times holds a paradox: grief and gratitude. I feel grief and anger over our failures and the resulting burdens that have been placed on so many marginalized communities. Grief and guilt for all that I did not do and did not see. Gratitude for activists both within and outside of health care who have long been working towards a better way, and to those activists and many more of us who are now redoubling or joining that work. Gratitude for my opportunity to learn and do more. Gratitude for those health care leaders who are now listening and acting on behalf of those marginalized groups. And gratitude for the honesty and intensity of caring I have been privy to hearing in providing emotional support for health care providers, as they share their depth of caring, helplessness and hopefulness.
I have long trusted in the overall integrity and caring of my peers. Trust in government and health care leaders has been significantly damaged and will need to be rebuilt. I feel an awakening of possibility.
---
Jo Shapiro, MD, FACS is an associate professor of Otolaryngology-Head and Neck Surgery at Harvard Medical School and a consultant for the Massachusetts General Hospital Dept of Anesthesia, Pain and Critical Care. She is Senior Faculty for the Center for Medical Simulation in Boston and was the founding director of the Center for Professionalism and Peer Support at Brigham and Women's Hospital.