Author:
ABIM Foundation
Building Trust Essay Contest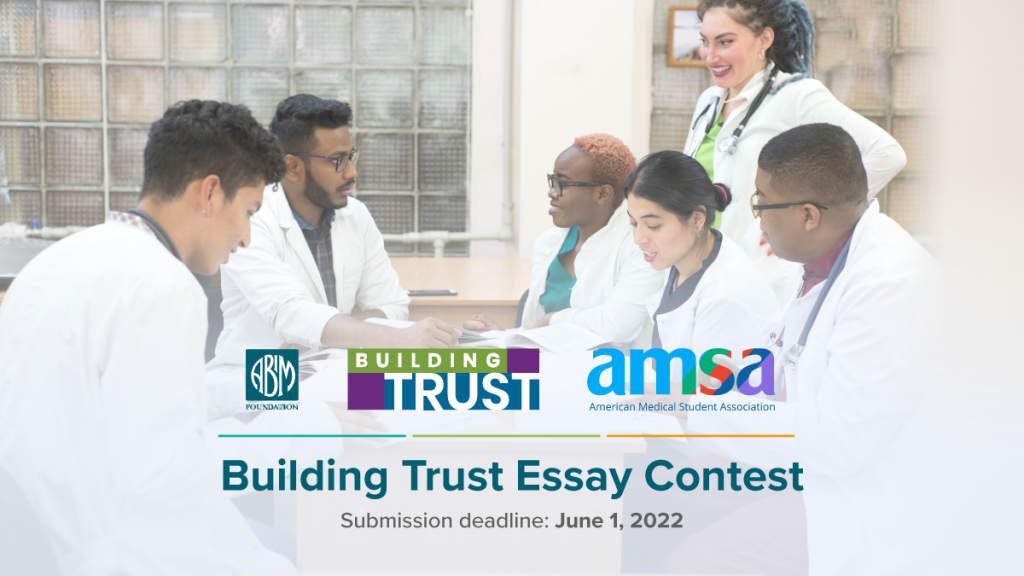 Sponsored by the American Medical Student Association & ABIM Foundation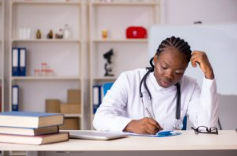 Medical students have lot to say about building trust with their schools, faculty, peers, patients, and communities. How can we discover what activities or projects medical students are engaged in that build trust?
The Building Trust Essay Contest asks medical students to engage in a reflective writing exercise that illustrates an experience where they built, lost, or restored trust in a health care setting. Submissions must address the topic of trust and may touch upon students' personal experiences of leadership, mentorship, health equity, faculty relationships, etc.
Submission requirements
The Building Trust Essay Contest is open to medical students at accredited schools of medicine in the United States. Submissions must be an original, unpublished essay of 750 words or less. Essays must be written in English and only one submission per student will be accepted.
Publication
Select essays will be published in the Sept/Oct edition of The New Physician, and published on the AMSA website, social media, and in a monthly newsletter(s). Essays will also be published on the ABIM Foundation's website, promoted on social media, and in newsletter(s).
Selection criteria
An independent panel of judges, to include a mix of medical students and faculty, will review and select five winning essays. Up to 10 honorable mentions will also be awarded. Essays will be judged on the following equally weighted criteria:
Content and connection to the topic of trust
Quality of writing and clarity of thought
Novelty of the message
Opportunity for others to learn
Submit your original, unpublished essay here by June 1, 2022.
Questions, please contact jmcclennen@abim.org
Learn about the American Medical Student Association at amsa.org
Building Trust Through Diversity, Health Care Equity & Inclusion in Internal Medicine Training: Grantee update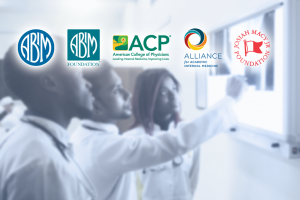 In June 2021, the ABIM Foundation – in partnership with the Alliance for Academic Internal Medicine (AAIM), the American Board of Internal Medicine (ABIM), the American College of Physicians (ACP) and the Josiah Macy Jr. Foundation – awarded a total of $287,500 to 32 projects to rebuild trust and address health care diversity, equity and inclusion in medical education and training.
Over the past year, grantees have begun to work toward addressing the root causes of distrust in the provision of care. Each of the projects are well underway in their efforts, and we're pleased to provide an update on some of the grantees:
The University of California San Diego set out to recruit 20 rising high school seniors from diverse backgrounds who would be first-generation college students and are interested in a medical career to join the Integrate First program. Students participate in the program during their senior year of high school and freshman year of college, and receive intensive support from mentors. Twenty-five rising high school seniors have been identified to join the program, and 20 will be asked to commit to the cohort over the coming weeks. Thirty mentors from UC San Diego School of Medicine and three mentors from ACP California have also been recruited. The Integrate First team has also secured a full-time success coach and a graduate intern to help prepare the cohort for their transition to college.
The University of Maryland is working with Corizon Health, the health care provider for the Maryland Department of Public Safety & Correctional Services, to improve care for incarcerated transgender people. The project aims to increase the number of providers with foundational transgender competent care knowledge and skills by developing new teaching curriculum. So far, grantees have applied for, and secured, five continuing medical education (CME) credit hours for the revamped curriculum, and have extended an invitation for participation to endocrinology fellows through the Association of Program Directors in Endocrinology, Diabetes and Metabolism and Maryland's ACP chapter. Additionally, six new didactic and interactive learning modules have been created, covering topics that include hormone care, health vulnerabilities, and transgender competent care.
Pre-COVID-19 pandemic, Hennepin Healthcare's diversity, equity and inclusion (DEI) team established a detailed curriculum for all trainees and faculty to incorporate trauma-informed approaches in their practices. However, due to the pandemic, training was scaled back to prioritize medical students. So far, a virtual reality simulation has been created and implemented to teach the basics of integrating concepts of Trauma Responsive Care into the clinical setting, and six third-year medical students have received extensive training on trauma informed care. To ensure the project's effectiveness, Hennepin Healthcare plans to elicit input about the curriculum from community members who have experienced health care induced trauma through a series of interviews and observations.
Oregon Health & Science University is studying structural racism experienced by Hispanic patients with diabetes, hypertension, and/or obesity in order to develop an anti-racism and structural competency curriculum for internal medicine residents. By partnering with ¡Salud! and Virginia Garcia Memorial Health Center (VGMHC), thirteen patients were recruited to participate in two separate focus groups. Lessons learned from these focus groups combined with focus groups of residents and faculty, a new structural racism curriculum will be developed and piloted as part of a residency program at Hillsboro Medical Center.

Third-year medical students at the University of North Carolina are using a newly developed health equity dashboard to identify health disparities amongst patients, analyze that data and implement quality improvement projects that promote equity at UNC Health. So far, 53 students have completed a project.
Posted Updated: May 12, 2022
Learning Network Webinar – Micah Prochaska
February 15, 2022 | 4PM ET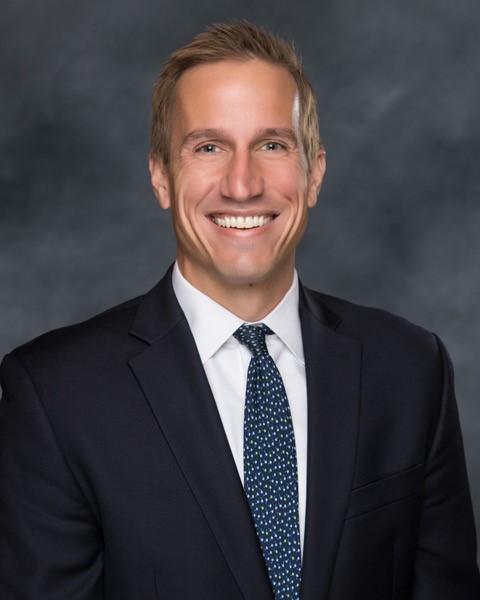 Dr. Prochaska is an Assistant Professor of Medicine at the University of Chicago. He is a clinical investigator and hospitalist clinician, and is supported by grants from the National Heart, Lung, and Blood Institute (NHLBI) to study how red blood cell transfusion for hospitalized patients with anemia affects their fatigue, activity, and fatigability levels after they have been discharged from the hospital. Dr. Prochaska is also the Associate Director and Co-Investigator of the University of Chicago Hospitalist Project research infrastructure, and involved in the integration of the Chicago Area Patient Centered Outcomes Research Network (CAPriCORN) into clinical research at the University of Chicago. He is Co-Investigator of the University of Chicago Translational Medicine Program (CTMP), and the Cultivating Health & Aging Researchers by Integrating Science, Medicine, & Aging (CHARISMA) Program, both of which train undergraduate students in clinical and translational research. Dr. Prochaska is an Assistant Director of the MacLean center for Clinical and Medical Ethics and a Healthcare Delivery Science and Innovation Scholar, both at the University of Chicago.
Previous Webinars
Misinformation grant program
The ABIM Foundation has launched a Misinformation Challenge Grant program designed to enhance or expand existing practices designed to build trust in the health care system by identifying and countering misinformation in health care and public health. We are seeking to support practices that are focused on improving the quality of communication by providing or ensuring accurate information to the public. This can include practices related to creating accurate content and/or innovative approaches to delivering content more effectively.
We are open to a variety of proposals, and note (1) our particular interest in practices that are tailored to discrete groups/communities, particularly populations made vulnerable by misinformation and (2) that our interest goes beyond practices that are specifically focused on COVID-19, although we are open to such practices.
Selection Process & Funding
An independent panel of judges will select two winners, who will receive 2-year grants of $80,000 (first place) or $30,000 (second place). The first-place winner will have the opportunity to present at the 2022 ABIM Foundation Forum, which brings together leaders from across health care and which will be devoted to the topic of misinformation.
How to Apply
Please submit a proposal by 11:59 pm ET on February 15, 2022 to Tim Lynch, the Foundation's Senior Director of Programs. For information about proposal formatting, download the RFP (pdf).
Information Sessions
Foundation staff will host informational webinars on January 11 at 1pm ET and January 19 at 3pm ET. These sessions offer potential applicants the chance to ask any questions they may have. You can access those sessions at https://abim.zoom.us/j/81743769978.