Factchequeado is limiting misinformation in Spanish-speaking communities
According to Nielsen, Latinos in the U.S. are more likely to receive, consume, and share "fake news" and misinformation online compared to the general population. Considering that tens of millions of Latinos use Spanish as a primary language, the absence of any organization devoted to rebutting false Spanish-language claims in traditional and social media presented a significant gap in our ability to address misinformation. Factchequeado has stepped into that breach.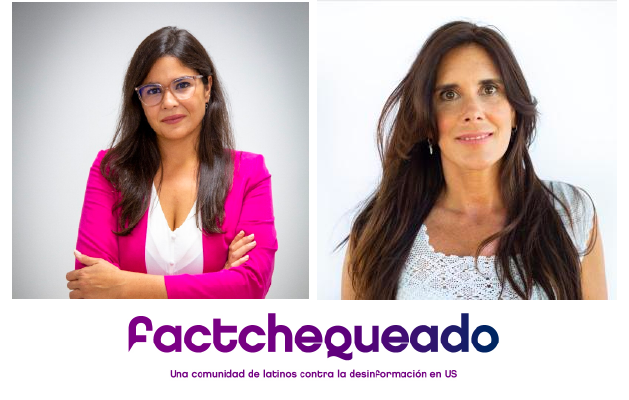 Co-founders Clara Jiménez-Cruz, CEO of Maldita.es, and Laura Zommer, editor-in-chief of Chequeado, the first major fact-checking organization in South America, paired up to form the organization in 2021. Factchequeado not only aims to create verified content in Spanish, but ultimately to build partnerships with local and national U.S. media and the Latino community to limit the impact of mis- and disinformation.
As the first-place winner of the ABIM Foundation's 2022 Misinformation Grant Challenge, Factchequeado received $80,000 to help correct the scourge of medical misinformation, which experienced a resurgence during the pandemic. The project has also received financial support from the Google News Initiative, the Knight Foundation and ICFJ.
Factchequeado has established more than 30 alliances with organizations across the U.S. that serve Latino communities, including media and institutional partners. These partners can republish Factchequeado's content and access its training materials, and help it connect with Spanish-speaking audiences.
In an effort to create a bond of trust, Factchequeado created a WhatsApp chatbot that allows individuals to directly share misleading information or make requests for factchecks. Factchequeado shares information collected through the tool with its partner organizations to alert them about misinformation in circulation and enable them to create proactive and timely responses in their communities. (Spanish speakers commonly use WhatsApp for news consumption and sharing.)
In collaboration with Mediawise and The Poynter Institute, the team at Factchequeado is also training Hispanic journalists to mitigate misinformation in Spanish. Participants are taught skills to produce timely and accurate fact checks on health issues, including images and videos. They also learn methodologies that help them recognize disinformation.
The program has also created a toolbox with resources to help Spanish-speaking individuals learn to identify misinformation in the content they see on an everyday basis, empowering ordinary people to identify and counter the spread of misinformation.
WEBINAR: Generating verified content to dispel misinformation
This conversation examines Hispanic Americans' historical mistrust in the health care system and the effectiveness of fact checking, how Factchequeado is forming alliances with local and national media to reach the "hard-to-reach," and how the initiative is harnessing the power of social media to find and correct misinformation.