Building Trust in your primary care practice
Senior Investigator Michael Parchman, MD, MPH, of the MacColl Center for Health Care Innovation, part of Kaiser Permanente Washington, is a nationally recognized expert on applying implementation science to primary care. As both a family practitioner and health services researcher, he has more than 25 years of experience as a clinician and medical educator.
Building Trust team: Can you tell me why you think trust is important in improving health care and what interests you in the topic?
Dr. Parchman: This work began several years ago, when the Robert Wood Johnson Foundation approached us about the issue of engaging clinicians and other health care professionals in addressing overuse and promoting high value care. The more we explored this issue, the more we became aware of how trust is woven deeply into the fabric of every aspect of delivering high value care. It came up over and over again, and also came up repeatedly in our opioid work, where we are supporting primary care clinics in redesigning their care systems for patients who are on long-term opioids for chronic pain.
BT: You're now working on a project that's focused on medical management for dementia patients in ACOs. Can you tell us more about that project and how trust factors into the work?
Dr. Parchman: We're currently funded by the IMPACT Collaboratory, which is a National Institute of Aging-funded initiative, to work with ACOs on prescribing potentially inappropriate medications for patients with dementia. This raises clear issues of trust with both patients and their family members or caregivers. For example, they may ask, "Why was I started on this medicine in the first place?" So, there's a trust in the medical profession issue that arises.
Clinicians may also not trust data that's presented to them about how often they prescribe these medications. Clinicians may not trust patients to follow through on replacement services that might be safer and sometimes more effective than some of the medications. And then there's the issue of clinician and patient trust in the evidence behind the potential harm from these medications. Many clinicians say, "I know these studies show there's potential for harm from these medications but they're not like my patients." Finally, as a clinician there's trust in your organization to support you in decreasing the use of a service for which the potential for harm is greater than the benefit, and trusting your peers not to prescribe these potentially inappropriate medications.
BT: What do you hope to measure around trust with this project?
Dr. Parchman: We're training 30 clinicians across two ACOs to become clinician champions. Through a curriculum and a project workbook, we're going to partner with these clinicians to look at how they implement this work in their own setting and use the data they enter in the project workbook to discover how often issues of trust come up, what kinds of trust issues come up, and how they address them. (Find the workbook and curriculum at Taking Action on Overuse.)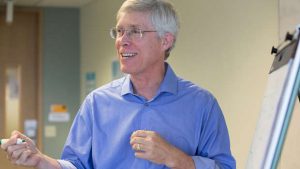 BT: What have you learned about trust from your work on de-prescribing opioids and older adults?
Dr. Parchman: Our work focuses on six building blocks for opiate medication management. When clinics engage with our team, coaches or facilitators help them look at how they are managing opioid medications. Clinics sometimes come to us when they unexpectedly find themselves inheriting patients who have legacy opioid prescription from a retiring provider. When those patients come in for refills, there's that difficult conversation about why they are on the medication and the potential for harm. Then they ask why they were started on the medication in the first place. It entails having what I call a "sense-making conversation" with patients, and we worked to develop scripts for those conversations. We suggest saying things like, "Well you know we used to think these medications were safe. We now know they are not. There's new evidence that these medications probably are not as safe as we thought." So, you blame the medication and don't blame the retiring provider.
BT: Historically, older patients are reluctant to have these shared decision-making conversations. Do you have any tips on engaging older adults in such conversations?
Dr. Parchman: It usually requires several visits. You have to build a relationship and frequently you find yourself in a position of saying, "OK, let's not upset the apple cart today. We will give you enough to last you for another month or two. But, I need to see you back, and we need to continue this conversation. In the meantime, I want to give you some materials for you to read and think about and then we can talk about some options for your care." The number one message is "I am never going to abandon you as a patient. I just want to make sure that you're safe."
BT: Can you share any insights from your practice facilitators, who need to convince clinicians to take the time to have those conversations?
Dr. Parchman: To have a conversation with the patient, you don't have to go into a 20-minute long conversation. The other thing is, not to put it all on the shoulder of the prescriber. We train medical assistants and nurses on how to have these conversations with patients so everybody on the team is on the same page. (Find these tools here.)
BT: Is there any additional advice you'd like to offer?
Dr. Parchman: Be patient. This work takes time.